BiospHEROES Children's Exhibition
From 11 - 22 November, see projects from Kids in Action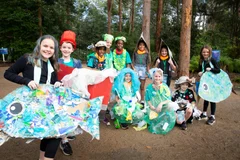 Be inspired by the incredible display of environmental projects made by and for children in this years Kids in Action program.
Focusing on what it means to live in the Sunshine Coast Biosphere, 245 students from 22 schools explored 'connecting, caring and co-creating the future'. This special exhibition features examples of what they have learnt, and importantly, what they developed to teach others.
From saving the sedgefrog, growing local native foods, to ocean futures and plastic pollution, these kids really are our future environmental custodians.
Come and see their outstanding work and learn how you too can become a BiospHERO.
Open 10am - 2pm, Monday - Saturday. Free entry.